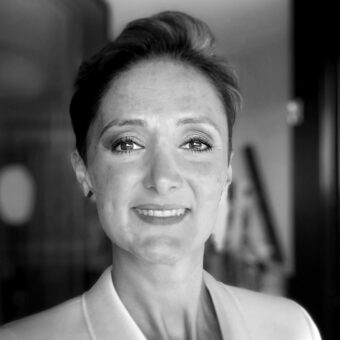 Ambra Trotto
Inclusive innovation
Digital ethics
Transforming practices
Design & prototyping
By making things together to imagine different futures, we can transform existing practices into sustainable ones.
Ambra Trotto is the Research and Design Director of the European Design Competence and Excellence Center coordinated by RISE. The Center works to transform existing practices into sustainable ones, through design. It promotes a more-than-human, relational, inclusive and systemic approach to societal transformation, tackling complex social challenges and prototyping possible futures. 
Ambra leads the Digital Ethics initiative at RISE, setting the foundations of how RISE takes ethics into account, when designing transformation with technology as a material. She is part of the Development Team of the strategic research area Value-shaping System Design. 
Ambra is also associate professor at the Umeå Institute of Design. She closely collaborates with the research group of Systemic Change and the Chair of Transforming Practices at Eindhoven University of Technology. 
Ambra Trotto's fascinations lie in how to empower ethics, through design, using digital and non-digital technologies as materials. Strongly believing in the power of Design and Making, Ambra works with makers, builders, craftsmen, artists, dancers and designers to shape societal transformation. Within her design research activity, she produces co-design methods to boost transdisciplinary design conversations.